Saturday, 1 August 2015
August Wish List
August is upon us, and what a glorious month. Mainly because myself and my twin sister turn 21 this month, a mile stone birthday! As the last month of summer, August is all about squeezing out the most of the sunshine.
To Visit
Barcelona
August is starting off on a high for me, with a trip to Barcelona with some of my best girlfriends. Sangria, sightseeing and tapas are all high on the priority list!
To See
Regal Cinema Melton - RSC Othello
My home town has the
cutest independent cinema
, and they often screen event showings. At the end of the month, a screening of Royal Shakespeare Company's
Othello
is being shown, and as a lover of Shakespeare I am hoping to get some tickets.
To Eat
Tossed UK
I stumbled across this
food company
in a service station last month, and have been dreaming of my custom made salad box ever since. The healthy eating concept shines through the menu, without a single limp salad leaf in sight. I highly recommend a visit if you are ever
near a store
. I've got my eye on the super kale caesar. What do you fancy?
To Read
The Girl On The Train
I purchased
this novel
along with 6 other books last month, and cannot wait to get my nose stuck in. The book has been topping the book charts for a while, and I am looking forward to seeing whether it lives up to the hype.
To Buy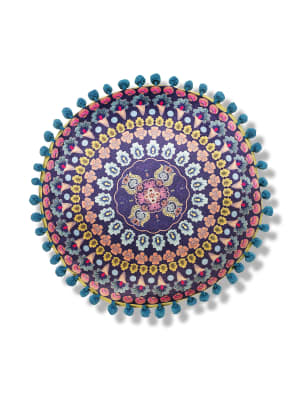 Marks and Spencer Embroidered Cushion
I am slightly bias, but M&S have some really great home ware at the moment. I am a particular fan of the
Moroccan range
, including this beautiful embroidered cushion. It would look great as a scatter cushion alongside a mixture of patterns and bold prints.
To Wear
Boden's Ottoman Shift Dress
As September approaches and with that the beginning of my graduate career, I have started to think about my work wardrobe. Boden always has some great pieces, and I love
this dress
, with a flattering fit and sixties inspired look.
To Cook
Ultimate Veggie Burgers
Waitrose always supply some great recipe ideas, and these
veggie burgers
look delightful. A mixture of veggies, potatoes and seeds, they are wonderfully nutritious and hopefully taste as good as they look.
To Bake
Courgette Brownies
I love trying out baking recipes with a twist, and
this brownie recipe
includes courgette, adding some veg and moisture to the mixture.
To Drink
Matcha Mint Iced Tea
Mint tea is a part of my daily routine. I usually have a few cups a day, and love the freshness of it.
This recipe
is a summer twist on the classic, adding matcha powder for added nutrition, and colour!
Rosie
x
Posted by

Rosie McKay
at Saturday, August 01, 2015